Please raise your hand if you've ever felt like your meetings with mutual fund prospects miss the mark.
When you walk into the sales meeting, you are awkward and it shows. The prospect senses it and is already looking at their wristwatch thinking, "This meeting is going to be lame." Maybe you launch into the boring dog and pony show that you and your portfolio manager have done 1,000 times and the prospect is struggling to keep their eyes open. It's daunting enough to get a meeting with that potential RIA investor – never mind figuring out whether or not your mutual fund is a good fit, how you will 'convince' them to invest, and what you should do next.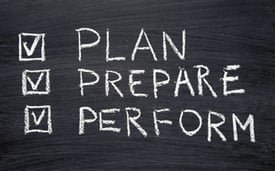 Well, there's good news: a meeting with a potential investor in your mutual fund doesn't have to be that daunting. With the right road map at your disposal, you could easily walk into your sales meeting with the confidence that your team is ready to rock and that this prospect might just be your new BFF. How? One simple change to your sales meeting preparation process: the creation of a meeting prep document.
At third party marketing firm Havener Capital Partners, we have a process for preparation. Download our free template (below) for sales meeting preparation, and we'll walk through how to use it right now in this very blog post. When we're done, you'll know exactly how to prepare for a meeting that moves mountains. Ready? Let's dive in.
3 Steps to Prepare for a Killer Sales Meeting
1. Pick the right prospect for your meeting.

Before a sales meeting can be killer, you need to be sure the prospect is a good fit. The likelihood of your meeting being mutually beneficial increases when you've done the work ahead of time to identify your target investors. Then, your mutual fund and the problems it solves are more likely to be relevant. Example: If your mutual fund has $10MM in AUM, trying to meet with that $20B RIA whose smallest allocation would dwarf your AUM is probs not a good idea. Nota Bene: remember, in your sales meeting planning, try not to leave awful voicemail messages.
2. Create a meeting prep document at least 48 hours in advance.
It's more than the address of your meeting and the nearest Starbucks; it's putting pen to paper to outline what's important. Give that prep document to all attendees from your mutual fund company, including your portfolio manager, and make sure they read it. It's more difficult to half-ass your meeting when you have to create something that will be circulated and printed. Changes the stakes of your prep game.
The meeting prep document should include:
The vital statistics of the meeting (who, where, what time, important numbers like AUM or phone numbers in case someone runs late, etc.)

Notes from your conversations with the prospect
Relevant observations from their websites or commentaries
A clearly defined specific, measurable, actionable, realistic, and time-based goal of what you hope to accomplish in this meeting
Unique highlights that relate to this specific deal and this prospect's situation (if it can be used for more than one meeting prep, it's not specific or unique enough)
3. Last, but certainly not least, be prepared to tell your story, not just tout your performance.

In addition to emailing the meeting prep documents to your colleagues 48 hours in advance, print enough hard copies to hand to each of them before the meeting. This ensures that if they didn't pay attention to your prep work before, they will now. Make sure you are all on the same page and that your portfolio manager is ready to address the unique, specific challenges this RIA prospect faces. Also, make sure your portfolio manager is ready to tell your story. If the only language your portfolio manager speaks is performance, your team will miss the mark in the meeting.
Now, you will walk into your sales meeting with confidence – you are all on the same page, you have put yourselves in the shoes of your prospect, and you are ready to have a fun, engaging conversation that is not just about product or performance. Your meeting will be a bunch of cool people sitting around talking about interesting shit.
And you know what the best part is? Next time, that blank meeting prep template won't feel quite as daunting.
Download the FREE Meeting Prep template here.
Want more help with meetings? We have two more sales meeting blogs up our sleeve.
Hit us with your questions/comments below and we'll try to address them in our follow-up posts!