At Havener Capital Partners, our third party marketing team meets a lot of mutual fund firms who understand the benefits of blogging and want to get their mutual fund blog started. However, many seem to get hung up on two questions: "How often should I be posting blogs?" and "How long should my blog posts be?"
There are countless articles on these topics and varying opinions that change every year as Google tweaks its algorithm. This can be frustrating for individuals who are numbers-driven—like our mutual fund clients—who want to hear answers with clearly defined parameters. Believe us—we'd love to be able to say "If you publish three blogs every week that are 500 words each, you will be at the optimal level for blogging success." It's just not that easy, though.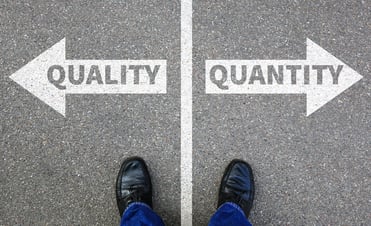 Top blog posts are not all the same length and companies don't all post at the same frequency. What they have in common, however, is quality content. Google wants to see that you are not just publishing blog posts, but publishing blog posts that people are reading, sharing, and finding useful. A blog post should be as long or short as it needs to be; don't ramble on if you don't have anything else of substance to add, but don't cut it too short if there's more you can teach the reader.
When it comes to frequency, we like to publish a blog at least once a week. It keeps people engaged with your brand, coming to your website, and sends a signal to Google that they should be crawling your website regularly. You want to be on Google's radar because the blogs you're putting so much time and effort into will have a better chance at ranking higher for key search terms.
That being said, if you have the capacity to publish more than one quality blog per week, you should go for it. The more you can produce high-caliber content geared toward your pre-defined investor personas, the better your chances are at generating leads and attracting investors to your mutual fund.
The bottom line is that when it comes to blogging for your mutual fund, you just have to get out of your own head and make it happen. Frequency and length aside, just having a blog as a key part of your website will give you a 434% better chance of being ranked highly on search engines—and that's all you need to know to get started.
Know you want to start a mutual fund blog, but don't have the time to make it happen? Contact Havener Capital Partners to learn more about the Content Marketing initiatives we've got lined up to help you.