With candy canes swapped out for boxes of chocolates and conversation hearts, the holiday of love (with a dash of consumerism) is upon us. While Valentine's Day is a great reminder to appreciate loved ones, we here at Havener Capital Partners think it's also a great time to reflect on personal passions as well. We believe that following our unique abilities and combining work with passion are the keys to success — and happiness.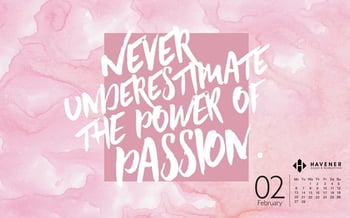 As such, here is a selection of our favorite quotes that share the magic that comes from combining passion with work:
"Choose a job you love, and you will never have to work a day in your life." - Confucius
"Passion will move men beyond themselves, beyond their shortcomings, beyond their failures." - Joseph Campbell
"Desire! That's the one secret of every man's career. Not education. Not being born with hidden talents. Desire." - Bobby Unser
"A person can succeed at almost anything for which they have unlimited enthusiasm." - Charles M. Schwab
"Enthusiasm is one of the most powerful engines of success. When you do a thing, do it with all your might. Put your whole soul into it. Stamp it with your own personality. Be active, be energetic and faithful, and you will accomplish your object. Nothing great was ever achieved without enthusiasm." - Ralph Waldo Emerson
"Passion is the genesis of genius." - Galileo Galilei
"Anything that gets your blood racing is probably worth doing." - Hunter S. Thompson
"I have no special talents. I am only passionately curious." - Albert Einstein
Spread the love by downloading HCP's free wallpaper, complete with a February calendar to help keep you organized and an inspiring quote to remind you to follow your passion everyday.
Download February wallpaper - Standard
Download February wallpaper - Widescreen
Download February wallpaper - iMac 


Don't miss out our monthly wallpaper designs!
Keep your desktop fresh and sign up to receive blog updates directly to your inbox.
---

About the Author


Alicia Purden joined Havener in January 2016 as Graphic Designer on our Marketing team. She is responsible for the design and execution of all marketing materials, delivering customized creative and marketing solutions for our clients and house brand. She loves all forms of art and design as well as the creative challenge of combining form and function. When she isn't designing, Alicia can be found practicing yoga, enjoying good food, or soaking up useless trivia in the hopes of one day becoming a Jeopardy! champion.