Are you interested in boosting your psychological and/or physical health? How about decreasing stress and sleeping better? Do you desire to be a happier and more confident person? Or maybe you are just really focused on hitting that year end asset goal for your mutual funds? You can get all of these benefits and more, in one scientifically-proven formula. It seems too good to be true, reading like a pitch for the newest self-help series or some thousand-dollar "happiness retreat." However, this magic potion is free of charge and available to everyone right at this moment. The secret formula is gratitude.
At Havener Capital Partners, we are specialists in third party marketing. We spend time understanding our clients' mutual funds, their market themes and positioning. We work on sales, traditional marketing, and inbound marketing initiatives, but we also take time to practice gratitude. Why?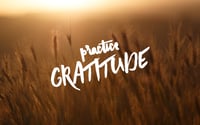 Gratitude, derived from the Latin word gratia, which means grace or gratefulness, is defined as a thankful appreciation from which people acknowledge the goodness in their lives. Harvard Medical School states that as a result, gratitude helps people feel more positive emotions, relish good experiences, improve health, deal with adversity, and build stronger relationships. The power of gratitude.
Our national holiday of gratitude, Thanksgiving, is the one day of the year specifically set to give thanks for one's blessings. Although enjoying homemade stuffing and yelling at the football game with friends and family inarguably have benefits of their own, the key to experiencing the positive effects of gratitude focuses on being grateful as an individual, not just feeling grateful in a certain moment. Showing appreciation to others, taking time to reflect on one's blessings, and absorbing an overall "attitude of gratitude" is key to unlocking the powers this secret and simple formula can bring. Robert A. Emmons, Ph.D., is the world's leading scientific expert on gratitude. He is a professor of psychology at the University of California, Davis, and the founding editor-in-chief of The Journal of Positive Psychology. Check out his videos on how to add gratitude to your daily life and how science has specifically proven the benefits this simple practice has on both the body and brain… and perhaps your mutual fund assets under management?
Here are a few ideas for mutual fund wholesalers:
Write a personal note to your largest investors in your mutual funds to thank them for their confidence in your team.
That article you read that made you think of your colleague? Forward it to them!
Can't meet for coffee? Buy a Starbucks giftcard for the client that just referred a new prospect to you.
Gratitude may be one of the most overlooked tools that we all have access to every day. Like mastering any skill, gratitude needs to be practiced as often as possible to gain the best results. Let this month's wallpaper design be the simple reminder to reflect on the good in your life and reach out and show your appreciation for others. Harness the power of gratitude!

Download our November wallpaper as a daily reminder to practice gratitude.
Download November wallpaper - Standard
Download November wallpaper - Widescreen
Download November wallpaper - iMac 



Don't miss out our monthly wallpaper designs!
Keep your desktop fresh and sign up to receive blog updates directly to your inbox.
---

About the Author


Alicia Purden joined Havener in January 2016 as Graphic Designer on our Marketing team. She is responsible for the design and execution of all marketing materials, delivering customized creative and marketing solutions for our clients and house brand. She loves all forms of art and design as well as the creative challenge of combining form and function. When she isn't designing, Alicia can be found practicing yoga, enjoying good food, or soaking up useless trivia in the hopes of one day becoming a Jeopardy! champion.