Are you launching a new Mutual Fund? Or is your mutual fund simply undiscovered? At times, you may feel that you are wandering around, lost and uncertain of the next step. Managing a new or undiscovered mutual fund is truly a journey of formulating the right distribution strategy and creating marketing plans to attract the right investors. Sometimes, this journey may lead you to dead ends, but other times may lead you down a path to discovery.
That's the beauty of intentional wandering—you're acknowledging you still have a lot to learn, and you're willing to take that journey until you achieve your goals. You're not lost, you're growing.
At Havener Capital Partners, we're all about personal and professional growth, so we knew the quote "Not all who wander are lost" would be the perfect theme for our May computer wallpaper. As you work hard to build your mutual fund this month, make this image your desktop wallpaper so it can serve as a regular reminder that though you may be wandering, it's all part of the journey.
Stay inspired all month with our May wallpaper, complete with a miniature calendar to keep you organized.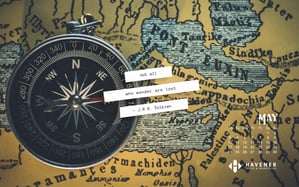 Download May wallpaper - Standard

Download May wallpaper - Widescreen

Download May wallpaper - iMac

Don't miss out on our monthly wallpaper designs!
Keep your desktop fresh and sign up to receive blog updates directly to your inbox.
---

About the Author


Alicia Purden joined Havener in January 2016 as Graphic Designer on our Marketing team. She is responsible for the design and execution of all marketing materials, delivering customized creative and marketing solutions for our clients and house brand. She loves all forms of art and design as well as the creative challenge of combining form and function. When she isn't designing, Alicia can be found practicing yoga, enjoying good food, or soaking up useless trivia in the hopes of one day becoming a Jeopardy! champion.