This month at Havener Capital Partners, we have taken a step back from blogs on third party marketing and helping mutual funds grow to focus on the practice of gratitude. The practice of gratitude yields results – personally, professionally and yes, even for your mutual funds' bottom line.
Given last week was Thanksgiving (the penultimate celebration of gratitude), here's one more blog on gratitude. I want to share my story on the chance it may help even one person feel more grateful about his or her own.
It was the fall of 2005, I was 30 years old, a newly-wed and just completed running two half marathons. I was feeling healthier than I did at 20 years old. Except, I was about to be told something, that I couldn't believe. I had cancer.
This was the beginning of my journey to a 10-year story of survivorship.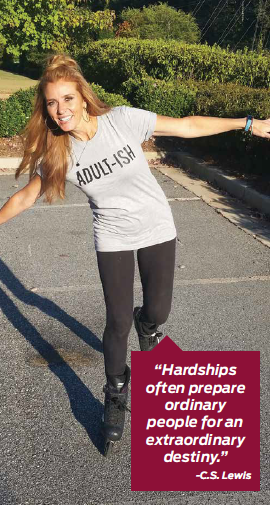 I had just started a new job at a Health & Wellness clinic where we provided comprehensive full body physicals. I was hired to do their marketing, and I needed to know what I was selling to people. Therefore, the doctor at the clinic wanted me to have an executive physical exam. During the physical exam, they performed an ultrasound on my neck and found a nodule in the left side of my thyroid. I didn't think much of it and agreed to have a biopsy.
I remember the night that I received the phone call from my doctor (my boss), informing me that my results were positive for Thyroid Cancer. I was shocked as I drove home and faced the challenge of telling my husband that I had cancer. I was scared, but hopeful that everything would be fine. Perhaps a part of me was also in denial.
After telling each other how our days went, I just dropped the bomb. "I have cancer," I said. We embraced, cried for a little while, and then discussed what our next steps were going to be. The only thing we knew for certain was that we were going to limit our stress about the diagnosis - as cancer thrives in negative environments.
I opted for surgery to be done as quickly as possible. During surgery, the surgeons discovered that my cancer had spread from the left side to the right side of my thyroid and into my lymph node system. They removed my entire thyroid as well as lymph nodes in my neck and chest area. About four weeks later, I had radiation in the form of a pill. It took several months before I started to feel like myself again in terms of energy, but my positive outlook never wavered. Of course, I was scared. I mean, who wouldn't be scared at the age of 30 and being told "you have cancer." But I didn't want that to rule my attitude, my day, or my positive outlook on life. I continued, business as usual.

I was reaching the 8-year mark of being cancer free, and was asking my endocrinologist during a routine visit if he thought I was too old to have another child. I was now 38 years of age, had three beautiful children, but longed for one more baby. He said he didn't think I was too old, but that I should do a full blood panel to make sure all was well.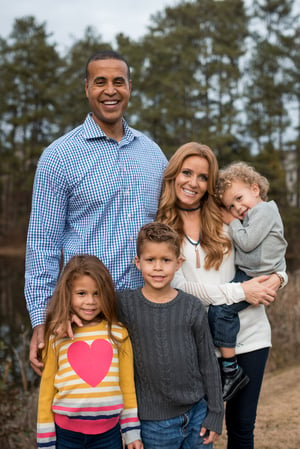 Unfortunately, my blood tests came back positive for thyroid cells inside my bloodstream. A positive for me, was not good, since I should not have any thyroid cells in my body anymore.
After a series of tests over the course of a month, including multiple ultrasounds, a full body scan with radioactive iodine, and a CT scan (because the body scan was showing positive results inside my liver and gall bladder), the result was that I did not have cancer again. Shew.
Instead, I had a splenic artery aneurysm (SAA). Sigh. With this diagnosis, I was told that having a fourth child would not be a good idea as the consequences could be fatal for both me and my unborn baby. Was I sad? Yes and no. The part of me that was sad was the idea that I couldn't have another baby. But the positivity in me was extremely thankful for the family and life that I currently have.
But that wasn't the end of my health concerns. In July of 2015, I was having a mammogram at the age of 40; doctors found four high-risk rare lesions in my right breast. I was told that due to having radiation in the past, this could be the cause of these lesions, because I have no family history of breast cancer in my immediate family. In September 2015, I had a double mastectomy with breast reconstruction.
I often get asked if I second guess my doctor at her recommendation of having a double mastectomy. My answer is always the same. No.
If cancer has a chance of being inside my body, I'd rather play it safe and be preventative. Of course, I have a health history of odd things occurring in my body, so I'm not going to take any chances either.
I am often asked, "Are you tired?" Tired of what? I respond. Of living? NO way. I love life. There is so much to live for.
Life is an absolute gift, and I'm thankful for the journey I have been given to live. No matter how short or how long I get to live, I'm grateful for my gift of time.
If I may offer some simple advice to each of you reading this blog, it would be to not be afraid of the journey or the outcome. Just enjoy each day. Be positive. The real bottom line is not the big mutual fund deal you close or don't close… it's the way you live your life, the way you treat the people around you, and the joy and gratitude you share while you are here.


We'd love to hear from you!
Please feel free to leave your comments in the section below.

---

About the Author



Paige Blankenship is the Director of Marketing at Havener Capital Partners. She is responsible for overseeing creative, branding and marketing efforts for Havener's clients as well as the firm. Paige makes fact sheets look stylish, combines flair with content on websites, and gives visual representation to the things that make a firm unique.