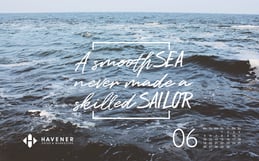 Isn't it nice when everything is going according to plan? The market is predictable, your investors are all happy, and it seems like your undiscovered mutual fund is finally gaining some traction and recognition.
Note: If you need help with getting your mutual fund discovered, check out our latest initiative that can help!
Those peaceful, calm times are always enjoyable—but do you know what they're not good for all the time? Making you stronger. Smooth sailing can be good for the soul, but rough seas are what can bring you from good to great.
Here are 4 positive lessons you can walk away with during tough times:
the depth of your strength.
how to be grateful.
ways to become better business leaders.
what you need to change.
The trials and tribulations of life aren't easy, but it's the lessons we learn from them that help us become better people who are also better at business.


At Havener Capital Partners, a third party marketing firm for investment managers, we welcome the waves because we know that ultimately we will learn something from the challenge.

Stay motivated with our free June desktop screensaver. Bonus: It also includes a calendar to keep you organized!
DOWNLOAD FREE DESKTOP SCREENSAVER OR WALLPAPER Here:
Download June wallpaper - Standard

Download June wallpaper - Widescreen

Download June wallpaper - iMac
Every month Havener Capital Partners provides a free motivational calendar graphic. Sign up here to receive these graphics and other FREE mutual fund marketing and sales advice directly to your inbox.
---
---

About the Author


Alicia Purden joined Havener in January 2016 as Graphic Designer on our Marketing team. She is responsible for the design and execution of all marketing materials, delivering customized creative and marketing solutions for our clients and house brand. She loves all forms of art and design as well as the creative challenge of combining form and function. When she isn't designing, Alicia can be found practicing yoga, enjoying good food, or soaking up useless trivia in the hopes of one day becoming a Jeopardy! champion.