We're going to let you in on a little secret, if you haven't realized it already: Every investor or RIA you contact may not be a good fit for your mutual fund.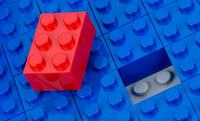 That doesn't have to be the end of the road for your relationship with them, though. What you do next is what will set you apart from those "other" mutual funds who just let leads slip through their fingers.
You're going to refer that investor or RIA to a mutual fund that you do think would be right for them.
Before we continue, we'll address the elephant in the room and the fact that you just thought, "You want me to send them to a competitor?!"
If your products are different and they attract different groups of people, you can't really think of it that way. You're either going to let this lead walk away, probably forever, or you're going to be thoughtful and helpful and prove that you want the best for them. By sending this person to a competitor, you're showing your true character—something that can go a long way, especially in business. Once you've done this, you plant the seed for one of several things to happen in the future. That one person may:
Remember your integrity and honesty and refer you to a friend or colleague who

is looking for a mutual fund like yours


Come back to you in the future when they're making changes to their portfolio


Tell the competing mutual fund that you referred them. Now, when that mutual fund encounters an investor or RIA who may be better suited for your offerings, they will be more likely to refer
If you're just getting started or don't have a very comprehensive list of other mutual funds to recommend, we've got you covered. Havener Capital Partners is a third party marketing firm specializing in representing breakaway managers, new funds, and undiscovered firms. Contact us to learn more!