Third Party Marketing Firm Havener Capital Partners Announces
Undiscovered Mutual Funds Newsletter
New mutual funds are being launched daily; existing undiscovered mutual funds remain hidden in the shadows; and meanwhile, the top 25 largest mutual fund firms still control about 75% of the assets1. This is not a level playing field, and the struggles that an undiscovered or new mutual fund faces in growing their investor base are real. At third party marketing firm Havener Capital Partners, we believe we can play a unique role in connecting undiscovered and new mutual funds with early adopter investors.
To help better serve our two tribes, we are excited to announce the launch of a new initiative providing undiscovered and new mutual funds an opportunity to tell their stories and to get those stories in front of RIA and family office investors who want to hear them.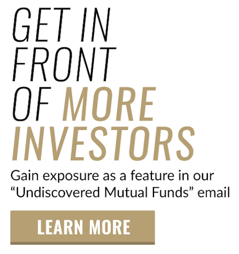 The Undiscovered Mutual Funds Newsletter will consist of a weekly email featuring one cool under the radar mutual fund story. The Newsletter will focus on qualitative topics that allow the manager to tell their story. It is also a way to celebrate the firms in the mutual fund industry who do not typically garner attention from the media and press.
This is just the beginning of the good news; participation in the Newsletter is FREE. We invite mutual funds to apply by submitting information through this form.
Through our network of thousands of investors, Havener hopes to foster connections between RIA / family office investors and mutual funds providing them an opportunity to learn more or start a conversation.
We're excited to work with so many amazing RIAs and investors who share our passion, and we welcome undiscovered and new mutual funds throughout 2017 and beyond.
Are you a new or undiscovered mutual fund? Know someone who is? Share your comments below!
---


1Source: ICI 2015 Factbook