When we came across the quote "Unexplored paths lead to undiscovered treasures," we couldn't help but think of all the amazing mutual funds out there that are still flying under the radar. The top 25 fund complexes are controlling 76% of total mutual fund assets1 —how is that fair?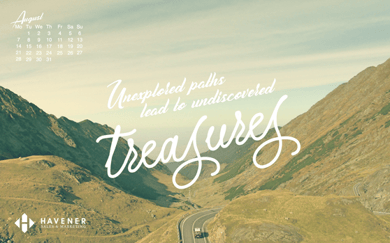 At Havener Capital Partners, our third party marketing team believes in the underdog and we know there are so many funds that would be able to claim their piece of the pie if RIAs and family offices just knew about their awesomeness. Luckily, we also know there are plenty of early adopters in the investment world who are ready to go down those "unexplored paths" to find the "undiscovered treasures." It's our mission to point those early adopters in the right direction so they know where to find the coolest funds with fascinating stories.


---
Have you heard about our Undiscovered Mutual Funds Email Newsletter? You tell us your story, and we share it with the thousands of investors in our network. Learn more about this FREE opportunity to get your fund's name out there.
---

Of course, we also chose this quote for our free August wallpaper because it ties into summer adventure as well. We know you work incredibly hard, but make some time this month or next to take a vacation, go somewhere you've never been before, and have exciting new experiences. You'll return to work refreshed and ready to rock your mutual fund!
5 U.S. cities to visit this summer (if you've never been):
While you're managing your mutual fund and (hopefully) traveling, stay motivated all August with our free desktop wallpaper. Bonus: It also has a handy dandy calendar to keep you organized!
DOWNLOAD FREE DESKTOP SCREENSAVER OR WALLPAPER Here:
Download August wallpaper - Standard

Download August wallpaper - Widescreen

Download August wallpaper - iMac

Every month Havener Capital Partners provides a free motivational calendar graphic. Sign up here to receive these graphics and other FREE mutual fund marketing and sales advice directly to your inbox.


1Source: ICI 2015 Factbook
---
---

About the Author


Alicia Purden joined Havener in January 2016 as Graphic Designer on our Marketing team. She is responsible for the design and execution of all marketing materials, delivering customized creative and marketing solutions for our clients and house brand. She loves all forms of art and design as well as the creative challenge of combining form and function. When she isn't designing, Alicia can be found practicing yoga, enjoying good food, or soaking up useless trivia in the hopes of one day becoming a Jeopardy! champion.