A new year, a clean slate, a fresh start – at third party marketing firm Havener Capital Partners we are excited about 2017 and we hope you are too. At the end of 2016, our team got together for 3 days of strategizing: recapping what worked in mutual fund marketing and sales in 2016 and developing a plan for how to beat our goals in 2017. What does that look like? Exhaust creative inspiration all day, celebrate at night, repeat X3, minds turn to mush, take time off over the holidays to rejuvenate. Perfect!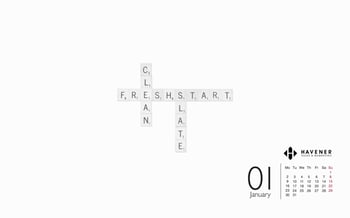 Now, we are back and ready to rock! Hope our January wallpaper inspires you to crush it.
Stay tuned for our upcoming blogs on creating actionable, focused mutual fund marketing and business plans for the new year: how will you increase assets under management for your mutual funds this year? Do your mutual fund wholesalers have a plan?
Fun Fact: Did you know Scrabble is found in one of every three American homes?!
Download January wallpaper - Standard
Download January wallpaper - Widescreen
Download January wallpaper - iMac 


Don't miss out our monthly wallpaper designs!
Keep your desktop fresh and sign up to receive blog updates directly to your inbox.
---

About the Author


Alicia Purden joined Havener in January 2016 as Graphic Designer on our Marketing team. She is responsible for the design and execution of all marketing materials, delivering customized creative and marketing solutions for our clients and house brand. She loves all forms of art and design as well as the creative challenge of combining form and function. When she isn't designing, Alicia can be found practicing yoga, enjoying good food, or soaking up useless trivia in the hopes of one day becoming a Jeopardy! champion.