When you're starting a new business or even a new project, it's easy to get stuck in your own head and second guess everything. For example, you may want to grow your business and generate new leads by developing awesome marketing materials (fact sheets, presentations, whitepapers, blogs, website, etc.), but you aren't sure what content to include in each piece. First, you need to define your buyer persona and then, develop a content plan.
To most, these steps can be overwhelming. But this inspirational quote we have chosen for our September screensaver will remind you that sometimes the hardest step, is the first one.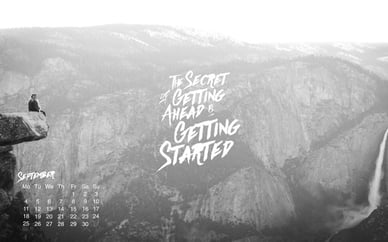 At Havener Capital Partners, our third party marketing team is passionate about generating leads for our clients through inbound marketing and that means planning ahead. To stay on top of things, we recommend having a content marketing plan that is developed at least 1 month in advance.
If you have thought about developing a content marketing plan, but are unsure of the benefits, here are 4 reasons why you need ONE:
Annual growth in unique website traffic is 7.8x higher for content marketing leaders compared to followers [source]
Content marketing costs 62% less than outbound marketing, but generates more than three times as many leads. [source]
74% of companies indicate that content marketing is increasing their teams' lead quality and quantity. [source]
The greatest impact today's business bloggers have on their organization are: thought leadership, SEO, and brand visibility and buzz. [source]
Ready to get started on a content marketing plan for your mutual fund, but just don't have the time or know where to begin? Contact Havener Capital Partners to learn how we can spearhead your marketing and sales efforts.
Download our free gift to you: a screensaver or wallpaper for your desktop featuring the quote, "The Secret of Getting Ahead is Getting Started".


DOWNLOAD FREE DESKTOP SCREENSAVER OR WALLPAPER Here:
Download September wallpaper - Standard

Download September wallpaper - Widescreen

Download September wallpaper - iMac

Every month Havener Capital Partners provides a free motivational calendar graphic. Sign up here to receive these graphics and other FREE mutual fund marketing and sales advice directly to your inbox.


---
---

ABOUT THE GRAPHIC DESIGNER



Alicia Purden joined Havener in January 2016 as Graphic Designer on our Marketing team. She is responsible for the design and execution of all marketing materials, delivering customized creative and marketing solutions for our clients and house brand. She loves all forms of art and design as well as the creative challenge of combining form and function. When she isn't designing, Alicia can be found practicing yoga, enjoying good food, or soaking up useless trivia in the hopes of one day becoming a Jeopardy! champion.