We know that April showers bring May flowers, but we couldn't wait to work that touch of spring into our newest desktop wallpaper design. At Havener Capital Partners, we're all about making the best out of any situation and getting important work done, even when it feels like the current circumstances are less than ideal. That's why the quote, "Bloom where you're planted," seemed like such an appropriate motivational mantra to grace our newest wallpaper and help our mutual fund clients reach their truest potential.

Stay inspired all month with our April wallpaper, complete with a miniature calendar to keep you organized.
Download April wallpaper - Standard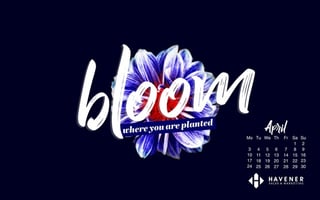 Download April wallpaper - Widescreen

Download April wallpaper - iMac

Don't miss out on our monthly wallpaper designs!
Keep your desktop fresh and sign up to receive blog updates directly to your inbox.
---

About the Author


Alicia Purden joined Havener in January 2016 as Graphic Designer on our Marketing team. She is responsible for the design and execution of all marketing materials, delivering customized creative and marketing solutions for our clients and house brand. She loves all forms of art and design as well as the creative challenge of combining form and function. When she isn't designing, Alicia can be found practicing yoga, enjoying good food, or soaking up useless trivia in the hopes of one day becoming a Jeopardy! champion.