We've almost officially made it through Winter and if you are like us at Havener Capital Partners, you probably need a little motivational boost to get through these last few cold weeks. With the Irish holiday of St. Patrick's Day on March 17th, this month's wallpaper is inspired by both the "Luck of the Irish" and the luck of good, old hard work combined with a true watercolor texture background.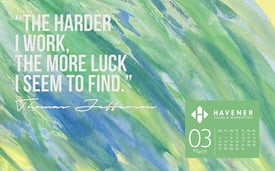 Stay inspired all month with our March wallpaper, complete with a miniature calendar to keep you organized with a motivational quote pushing you to do your best every day.
Download March wallpaper - Standard
Download March wallpaper - Widescreen
Download March wallpaper - iMac 


Don't miss out our monthly wallpaper designs!
Keep your desktop fresh and sign up to receive blog updates directly to your inbox.
---

About the Author


Alicia Purden joined Havener in January 2016 as Graphic Designer on our Marketing team. She is responsible for the design and execution of all marketing materials, delivering customized creative and marketing solutions for our clients and house brand. She loves all forms of art and design as well as the creative challenge of combining form and function. When she isn't designing, Alicia can be found practicing yoga, enjoying good food, or soaking up useless trivia in the hopes of one day becoming a Jeopardy! champion.