Going to watch some fireworks for the upcoming holiday? Us too! There are few things better than summer, time with friends and family, and an amazing display of sparkly, glittery fun shining bright against a dark sky. What if each of us in the mutual fund industry embraced that firework mentality for the month of July?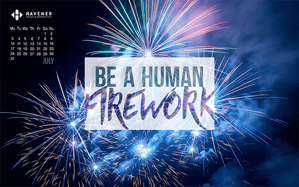 At Havener Capital Partners, our third party marketing team helps our mutual fund clients grow their businesses. Part of that process includes helping them harness their differentiators - the REAL things that make them unique. Think about your favorite rockstar… what do you like about them? Is it all the components of their persona or their music that sounds like everyone else? Probably not. Similarly, there are investors out there who want to see your unique sparkle and shine. We speak from experience as Havener has spent years connecting early adopter RIA investors with some really cool funds with interesting stories. Here are some ideas to help you get noticed this month.
4 Ways Your Mutual Fund Can Shine:

While you're enjoying a couple cold beverages, that delicious burger, and those amazing fireworks, think about your mutual fund and how you can stand out in the month of July. Then download our free desktop wallpaper to stay motivated.


DOWNLOAD FREE DESKTOP SCREENSAVER OR WALLPAPER Here:
Download July wallpaper - Standard

Download July wallpaper - Widescreen

Download July wallpaper - iMac

Every month Havener Capital Partners provides a free motivational calendar graphic. Sign up here to receive these graphics and other FREE mutual fund marketing and sales advice directly to your inbox.
---
---

About the Author


Alicia Purden joined Havener in January 2016 as Graphic Designer on our Marketing team. She is responsible for the design and execution of all marketing materials, delivering customized creative and marketing solutions for our clients and house brand. She loves all forms of art and design as well as the creative challenge of combining form and function. When she isn't designing, Alicia can be found practicing yoga, enjoying good food, or soaking up useless trivia in the hopes of one day becoming a Jeopardy! champion.