Hosting a holiday party or wondering what item to bring to one? IPAs, Bordeaux, Bourbon… they still get the job done, but this year, try taking your adult beverage game to the next level with some of these classic holiday cocktail recipes. These 3 drink ideas are surefire ways to bring out the holiday cheer or help you weather any kind of winter storm, but most of all, they will definitely be the talk of the party!
Hot Toddy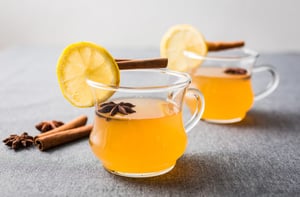 This warm, classic cocktail has long been a favorite among skiers and snowboarders, so it's perfect for chilly temperatures. Plus, it shows a level of sophistication that Irish Coffee just can't reach. Even the guy who brought the craft beer to the party will probably ask you for one after he smells the steamy, citrusy aroma.
The recipe is simple, just mix the following:
1-1.5 oz bourbon or other brown liquor
1 tablespoon honey
½ ounce lemon juice
1 cup hot water
(Optional) Lemon wedge, cinnamon stick or star anise for garnish
Then sit back and enjoy all the "oohs", "ahhs" and "mm's" this one receives.
Eggnog with a Twist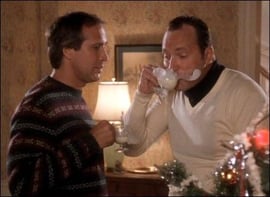 It's hard to top this legendary elixir for holiday parties. But if you have time, skip the store-bought stuff (which is usually too think and includes preservatives). While there are many different approaches to making eggnog yourself, here's a recipe using a blender that will get the job done in five minutes1. Make sure to make it the night before and let it "age" in the fridge overnight.
Add four whole eggs to blender and blend on medium speed for 30 seconds
Add ¾ cup of sugar and blend another 20 seconds
Add ½ teaspoon nutmeg, ¼ teaspoon cinnamon, 3oz cognac, 3oz bourbon, 1.5 cups milk and 1 cup heavy cream and blend until combined, about 10-15 seconds.
Transfer to an airtight container and refrigerate for a day or so to allow flavors to combine and mellow.
To Serve:
The eggnog may have settled in the refrigerator, so either give it a good shake or two, or pour into a mixing bowl and give it a whisk to get everything combined.
Serve with some additional grated nutmeg on top, and an optional cinnamon stick.
Eggnog has been called a Christmas Miracle. And this recipe just might bring you all the praise.
Old Fashioned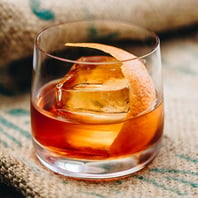 There's a reason this has been one of America's most popular classic cocktails since the 1880s, with similar variations having been served since the early 19th century. The Old Fashioned packs a punch, yet is sweeter and appeals to a wider audience than a Martini, Manhattan or bourbon on the rocks. Throw another log in the fireplace, whip up a round of these and settle into some holiday spirit.
To make, just combine the following with ice cubes (or preferably one big ice cube):
½ teaspoon sugar
3 dashes bitters
1 teaspoon water
2oz your favorite bourbon
(Optional) garnish with an orange peel
So cozy up with a loved one, or be the hit of the party …but rest assured, the one you share it with will thank you for being "Old Fashioned" this time around!
The Holidays are a wonderful time to come together in community and celebrate the act of giving. We hope you all take time for either yourself or to be together with loved ones and friends. The time we have is the time we make.
From our family to yours,
Happy Holidays from the team at Havener Capital Partners
---
Drink Responsibly.
1https://www.thechunkychef.com/5-minute-homemade-blender-eggnog/